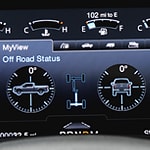 When it comes to pickup trucks, we understand that many people just don't care about amenities. However, when it comes to the Ford F-150, this vehicle is outfitted with impressive technology that does a lot more than enhance its interior experience. There's a reason why this vehicle is one of the best-selling automobiles on the market - let's talk about it.
Besides the F-150's impressive performance features, it also comes equipped with some technology that's quite exciting. Features such as an available 360-Degree Camera w/SplitView Display make knowing what's going on around your vehicle much simpler, whether you're trying to park on a tight street or just back out of your driveway. the F-150's Blind Spot Information System (BLIS) acts similarly on the road, letting you know what's happening in areas you can't see easily.
To learn more about the technology features offered by the Ford F-150, come test drive one here at Mathews Newark Ford!