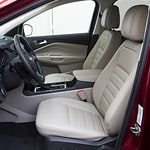 When it comes to popular compact SUVs today, the Ford Escape continues to rank up there near the top. There are so many different features that are very convenient to have. It makes the Escape a lot of fun to drive, but it is also quite practical at the same time.
You will notice right away that you do not need to use the key for much. Just keep it in your pocket or purse, for example, and you will be able to open the rear tailgate automatically. Just kick your foot under the rear bumper and watch what happens.
As soon as the liftgate opens, you will also be amazed at how much space is back there. It is easy to forget that this is a compact SUV. You will have more room than you dreamed of to load up your cargo and go. Mathews Newark Ford will be happy to schedule a test drive of the Ford Escape for you.