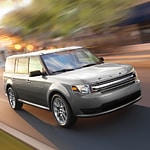 Mathews Newark Ford knows that drivers today like to express themselves in their choice of a vehicle. The Ford Flex SUV has much to offer car buyers in Heath, OH. This popular crossover lets you choose which wheels you can add to the Flex's iconic design, and also offers a choice of powertrains.
The Ford Flex comes standard with a 17" wheel package. These silver-painted wheels look classy and elegant, just the look for a business professional or conservative family. The SEL trim of the Flex includes an 18" wheel package. For those who need more, the 20" available black wheel package is sure to turn heads.
There are two different engines available in the Ford Flex. Drivers can select the Duratec V6, or they can go for maximum horsepower in the EcoBoost V6. You can choose which type of powertrain suits your lifestyle. More power will be handy for towing and outdoor activities.